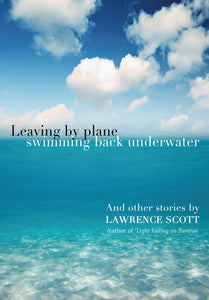 This new collection of short stories from an award-winning writer explores a Caribbean world of yearnings and memory, of escape and return underpinned by the disturbing tensions wrought by religion, race, sexuality and crime.
Sensuous and evocative, Scott's prose has a glorious lightness of touch and tone that exhilarates and illuminates.
Lawrence Scott is a prize-winning Caribbean novelist and short-story writer who was born on a sugar estate in Trinidad.
He has been short-listed for Commonwealth writers' prizes three times, long-listed for the Whitbread Prize and the Booker Prize and was winner of the Tom-Gallon Short Story Award. His latest novel is Light Falling on Bamboo (Profile Books, 9781781251584) about the 19th-century painter Jean Michel Cazabon. Leaving by Plane Swimming Back Underwater is his second short-story collection. He lives and works in both London and Port of Spain, Trinidad.
This book is also available as a eBook. Buy it from Amazon here.