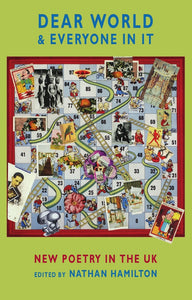 Dear World & Everyone In It is a ground-breaking new poetry anthology presenting the work of over 60 of the most talented and interesting young poets currently writing in the UK. Chosen by one of the country's leading young poetry editors, inspired by American precedents, and growing out of The Rialto's recent series of young poets features curated by Nathan Hamilton, it is the first British anthology to attempt to define a generation through a properly representative cross-section of work and a fully collaborative editorial process. 
By drawing on the poets' own recommendations, this anthology represents more effectively and appropriately a new generational mood - hybrid, playful, collaborative, ambitious, inclusive, cooperative. Less top down, more bottom up, it speaks also of other movements in our world, and even ends up challenging parochial notions of Britishness by including overseas poets who live or work here and who have become engaged and influential in the scene.
Avoiding, or ironising, older oppositional attitudes, Nathan Hamilton introduces his anthology with an essay describing 'this new generation's hybridisation of two aptly ironic and business-sounding "strains" in UK poetics…taxonomised as "product" and "process"'. His lively analysis juxtaposes modernist approaches with those exploring more traditional modes, hoping to bring some of the pleasures of the former to a wider audience.
The poets included are: Rachael Allen, Andrew Bailey, Emily Berry, Ben Borek, Siddhartha Bose, Elizabeth-Jane Burnett, James Byrne, Stuart Calton, Tom Chivers, Tim Cockburn, Becky Cremin, Emily Critchley, Joe Crot, Patrick Coyle, Amy De'Ath, Laura Elliott, Stephen Emmerson, Amy Evans, Ollie Evans, S.J. Fowler, Miriam Gamble, Jim Goar, Matthew Gregory, Elizabeth Guthrie, Emily Hasler, Oli Hazzard, Colin Herd, Holly Hopkins, Sarah Howe, Tom Ironmonger, Meiron Jordan, Katharine Kilalea, Sarah Kelly, Luke Kennard, Laura Kilbride, Michael Kindellan, Agnes Lehoczky, Frances Leviston, Eireann Lorsung, Chris McCabe, Michael McKimm, Fabian Macpherson, Toby Martinez de las Rivas, mendoza, James Midgley, Marianne Morris, Camilla Nelson, Kei Miller, Tamarin Norwood, Richard Parker, Sandeep Parmar, Holly Pester, Heather Phillipson, Kate Potts, Nat Raha, Sam Riviere, Sophie Robinson, Hannah Silva, Angus Sinclair, Marcus Slease, Andy Spragg, Ben Stainton, Keston Sutherland, Jonty Tiplady, Emily Toder, Simon Turner, Jack Underwood, Ahren Warner, Tom Warner, Rachel Warriner, James Wilkes and Steve Willey.
'Editor and poet Nathan Hamilton has, with electric panache, reinvented the anthology as a form of sequencing... It is friendly to poetry's inherent difficulties and demands. Which, to my mind, makes it the bravest anthology of poetry of the past few years' - David Morley, Guardian
Nathan Hamilton is one of the UK's leading young poetry editors. He runs Egg Box Publishing and has co-edited the anthology series Stop Sharpening Your Knives, as well as numerous other pamphlets, books and poetry projects over the years, and edited Dear World & Everyone In It: new poetry in the UK (Bloodaxe Books, 2013). He is chairman of the board of Inpress, representing over 40 independent UK publishers. He has been published in a number of places, in print and online, including The Guardian, The Manhattan Review, The Rialto, The Spectator and The Wolf.