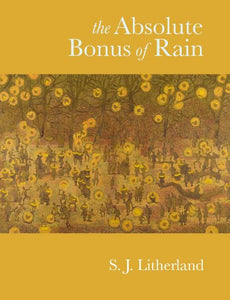 S. J. Litherland's sixth poetry collection never lets us forget Feste's remark that 'the rain it raineth every day'. Litherland is concerned with rain as the native weather of England, and also with our national sport, cricket. Rain and cricket may not usually go together, but in
The Absolute Bonus of Rain
they combine to form a backdrop of encouragement for life to go on, despite lost ideals and bereavement.
"Rain is approached from every angle – the warm scent, the colour of metal, in midgey fleets, softer than the padding of cats, the happiness of lovers. Nonetheless, it doesn't drench you… it is reassuring to see so much energy and playfulness on the page from such an established poet."
Paul Stephenson,
25 Years in The North
"
The Absolute Bonus of Rain
is a poignant collection that stays with the reader long after its pages are closed. Like the revitalised air after a downpour, it cleanses and wakens."
John McCullough,
Poetry London
"
The Absolute Bonus of Rain
is a mesmerising book of poems. The sense of reflection on the 'state of the nation' makes this a serious book in the best way: one which asks us to reconsider how we give meaning to our lives. Delight in how language works, and the incantatory charm of an almost MacNeicean refrain, animate poems which tap straight into our folk memory. Such music creates a spell that pits itself as an antidote to the most powerfully felt poems of loss. A rare thing in poetry – a collection of perfect pitch."
Siobhán Campbell
"'Throughout the book's changes of subject and place, rain persists, in all its sonic, visual and allusive properties.
The Absolute Bonus of Rain
left me with a warm but shivery satisfaction like a wet Sunday afternoon indoors. Litherland conveys a sense of gratitude for daily joys: 'I'm lucky to have mornings like this' (Balcony Days). Love, sexuality, tenderness and, yes, cricket are brought to the page in rain-fresh glory.'"
Other Poetry
"As usual, she writes beautifully about rain and cricket and about her wartime Coventry childhood. There are elegies for fellow North-East poets Julia Darling, Mick Standen and Barry MacSweeney, a fascinating study of Helen Of Troy in middle-age, and a wholly original take on mortality, 'Funeral Tunes'. But the core of the book is a series of magical poems about being a teenager in the Midlands in the 1950s ('She wanted the nouvelle vague and Russian / cigarettes, black stockings and politics') when the word 'Communist' was like a 'perfect solitary jewel... pinned to her chest.'"
Andy Croft,
Morning Star
"'Rain, with its 'quiet percussive tapping' and myriad meanings, dominates this the sixth collection of poems by SJ Litherland. It's peppered with references to cricket – she's a passionate fan of County Durham – pieces on Anne Boleyn and a brilliant insight into the mind of Helen of Troy after she returns from the arms of Paris to her husband Menelaus. There are lots of good lines – 'I saw the closed gate of the library of your life'; 'there's naked bathing and the party's / on'; 'May / creamy white as Wensleydale cheese' – and she ends 'Skye', for her lover, the journalist and poet Barry MacSweeney, who died ten years ago, 'while the rain cooled the seas': 'It was a trip we never made but yes.'"
Keith Richmond,
Tribune
"A welcoming, appropriate door to open Ms Litherland's sixth collection. And like the rain itself, Ms Litherland's ear, her forms, sounds and repetition inside the poems themselves mimic the blanketing sounds of rain. That one is dealing with a poet of extreme intellect and sophistication is in clear evidence throughout."
Poetry Salzburg Review
"S.J. Litherland's sixth poetry collection is heavyweight, inspirational and a pleasure to read, especially for the occasional Bunting-like music and not infrequent remarkable density (also a Bunting quality) of the language. 'Real poet' is written all over this work... As a bonus we have experimental layouts of some poems; and Larkin-like pictures of English landscape and mores – 'the cheerful Test Match crowds watching / men with large sponges mopping the turf' – stipple this first-rate collection."
Artemis
S. J. Litherland
's recent collections include
The Homage
(Iron), which was nominated for Cricket Book of the Year in 2007, and her highly praised
The Work of the Wind
(Flambard), about her years with fellow poet Barry MacSweeney. She was born in Warwickshire but has lived in Durham since 1965, and was a founding member of the Vane Women collective. A recipient of two Northern Writers' Awards, her poetry has been included in various anthologies, notably
New Women Poets
(Bloodaxe) and
The Forward Book of Poetry
.