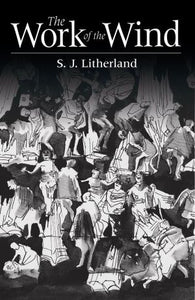 The Work of the Wind
,
S. J. Litherland's
fourth collection, charts the hurricane years she shared with fellow poet
Barry MacSweeney
.
Allied with him in his struggles against alcoholism, she found herself swept into his failing bids for recovery. The challenge of her distress, resentment, love and grief illuminates the sense of ordinary life attempting to prevail over the Shelley-an storm. The book, in four parts, runs on parallel dialectical courses through this turbulence. The poems are fragments of the narrative broken by time changes, flashbacks, incursions from breaking news on TV, responses to and meditations on daily events and crises, including the poet's loss of her mother.
Greatly diverse in form and tone, ultimately these poems shape a journal of survival and a long learnt spirit of resistance, something that earned her MacSweeney's title of 'warrior queen'.