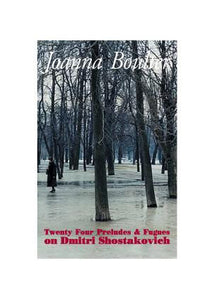 Shortlisted for the Best First Collection in the Forward Poetry Prize 2007
"I want to be an honest man in all respects", Shostakovich said to Solomon Volkov, "but now the person who knows the truth is the one who lives in fear". Yet his instrumental music was still a critique, even if it did not take the form of words.
"Joanna Boulter's superb new book, a novella in an impressive variety of verse forms, translates the composer's life and fears into a musical language which, in all its respects, brings illumination to Shostakovich's gifts for honesty and truth under pressure."
— David Morley
"Joanna Boulter's long sequence raises many interesting questions about the relationship between an artist's life experience and his work, between individual creativity and the seat of political power, and between one art and another."
— Meg Peacocke
Fugue

Our job is to rejoice. Simple C major?
That resolution cost me so much blood.
My music's comfort for that fiery child
would seem to him no more than a betrayer.
And yet: Our job is to rejoice. Each player
phrases his personal anguish to enfold
the pain of others, till he bleeds aloud
through every note. And still: simple C major.
Joanna Boulter grew up in Wiltshire and moved to Darlington with her family in 1989. She has had several competition successes, the most recent being First Prize in the Poetry London competition.
Her first pamphlet,
Running with the Unicorns
, was published by The Bay Press in 1994.
On Sketty Sands
, based on her maternal family history, was published by Arrowhead Press in 2001. Her third pamphlet,
The Hallucinogenic Effects of Breathing
is from the same press, published in May 2003. She won a Northern Promise Award in 2003 to continue research into her sequence of poems on the composer Dmitri Shostakovich.