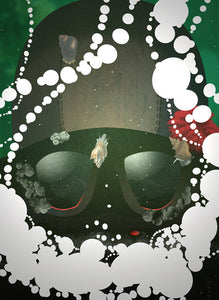 The second in Sidekick's new series of visually striking poetry books,
Aquanauts 
is an epic collective ode to the underwater realm. From the rich broth of the garden pond to the immutable dark of the deep, this anthology plunges us between lionfish, laternfish, sharks and skates, monsters and manta rays, plankton and plesiosaurs.
Aquanauts 
is a sumptuous, multi-tentacled haul of visual poetry, highly collectible and visually very pleasing. Editors Jon Stone and Kirsten Irving are both published, prize-winning poets in their own right.