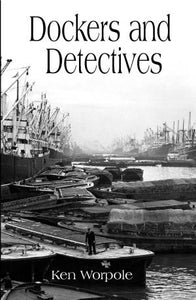 Ken Worpole
in his ground-breaking book
Dockers and Detectives
, analysed the appeal of "hardboiled" US crime novels of the 1930s to an industrial working class that failed to identify with the tamed domesticity of the home counties.
This pioneering study of twentieth-century working class reading and writing in Britain helped revive a number of literary reputations, such as those of Alexander Baron and James Hanley, as well as distinguishing distinct regional literary cultures and narrative styles still existing in Britain.
Dockers and Detectives
was Ken Worpole's first book, and the first edition was widely reviewed and praised.
Dockers and Detectives
appears on many UK course lists and is regularly quoted as an important source in any other book on literature in the 1930s and 40s.
Ken Worpole is the author of a number of books on architecture, landscape and social history, including
Last Landscapes
and
Here Comes the Sun
. He writes regularly for the
Guardian, Prospect, Times Higher Education Supplement
and other papers.
'…one of the shrewdest and sharpest observers of the English social landscape'
— the Independent
'Dockers and Detectives can be read with profit by anyone concerned with the sociology of reading. Ken Worpole is the kind of enthusiast who encourages one to seek out and read the books he describes.'
— The Bookseller
'What makes 'Dockers & Detectives' a good read is the quality of intelligent thoughtfulness that suffuses the book... He succeeds in making the reader want to rush out and read the books he is discussing because he tells a story well, and that in itself is still rare in books about literature.'
— City Limits