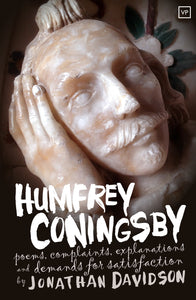 For Humfrey Coningsby – lord of the manor of Neen Sollars in South Shropshire – the world was a place of wonders and despair, of love found and then forsaken. He was a cantankerous, sentimental, petulant traveler; a gentleman soldier; a sly linguist; a confidant of Princes and Emperors; a receiver of such delights, and a doomed versifier. He walked out of this world on 10th October, 1610 – and now he walks back in, with barely a word of explanation.
This series of poems, complaints, explanations and demands for satisfaction forms the narrative of a life still being lived over four hundred years later. The Siege of Strigonium in 1594 was wretched; life in Aleppo in 2014 is worse.
Johnathan Davidson was born in 1964 in Didcot, South Oxfordshire, and now lives in Coventry. He won an Eric Gregory award in 1990, and is the author of Moving the Stereo (Jackson's Arm, 1993), The Living Room (Arc, 1994), A Horse Called House (Smith/Doorstop, 1997) and Early Train (Smith/Doorstop, 2011). He has had eight radio plays broadcast on BBC Radio 3 and 4, along with radio adaptations of Geoffrey Hill's Mercian Hymns and W.S. Graham's The Nightfishing.