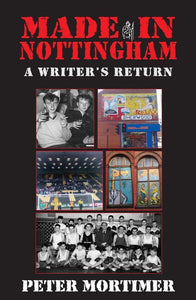 The Tyneside writer Peter Mortimer is used to writing about difficult places. Against Foreign Office advice he wandered round Yemen. He set up a children's theatre group in a Palestinian refugee camp in Lebanon and, over one summer, walked the length of Britain with one dog and no money, dependent on the kindness of strangers to provide accommodation and food.

In this book, part memoir, part documentary and social commentary, he undertook a shorter journey, taking up residence in the same street he grew up in, on the Sherwood council estate in Nottingham. It was a journey of only 160 miles, but one which involved revisiting his previous Nottingham life, some fifty years back.

Often feeling like a ghost, or disembodied spirit, Peter Mortimer stalks the streets of his past, attempting to put it into the context of how he lives now, trying to make sense of the two times.His sojourn makes for an unpredictable, often comic, sometimes painful journey.

Themes of changing times, class and society are universal. Anyone who has returned to their childhood home, however briefly, will immediately identify with the feelings and contradictions so vividly portrayed.

Peter Mortimer is probably best-known for his book Broke Through Britain, recording his walk through Britain with no money and nowhere to stay. His has written other extreme travel books including Camp Shatila and Cool for Qat. He lives in the North East, where he runs Cloud Nine theatre company and Iron Press.