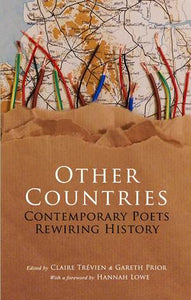 Other Countries: Contemporary Poets Rewiring History is an anthology of contemporary poetry that engages with events and figures of the past in new compelling ways. Within these pages are fresh and vibrant poems that have found inspiration in history – from poets who share Eliot's awareness "not only of the pastness of the past, but of its presence", to those who challenge our established narratives and give voice to history's marginalized. These are poems that are concerned with our shared and conflicting histories. 
'I initially misread this book's title as 'Rewriting History' – an act which didn't seem radical enough to me – seemed somehow to echo and repeat the same falsehoods about the construction of history – that its authorship is impartial, objective and singular. "Rewiring History" seems full of the possibility of giving history a new charge, acknowledging that history can be dynamic and dialogic, a current which can run back and forth along wires, be redirected and forge new connections across an indeterminate matrix.' Hannah Lowe, Foreword. 
Featuring poems from James Brookes, Matt Bryden, Karen Jane Cannon, David Clarke, Ross Cogan, Alex Dally MacFarlane, Sasha Dugdale, Martín Espada, Rebecca Goss, Hel Gurney, Linn Hansén, Emily Hasler, Sarah Hesketh, Holly Hopkins, Kirsten Irving, Jemma L. King, Rose Lemberg, Robin Lim, Éireann Lorsung, Hannah Lowe, Susan Mackervoy, Harry Man, Dawn Manning, Richie McCaffery, John McCullough, Michael McKimm, Lynn Pedersen, Shelley Puhak, Lesley Quayle, Lou Sarabadzic, Penelope Shuttle, Maria Stepanova, Chloe Stopa-Hunt, Diana Norma Szokolyai, Rebecca Tamás, Jeffrey Thomson, Jessica Traynor, Tim Wells, Elżbieta Wójcik-Leese, Cecilia Woloch.