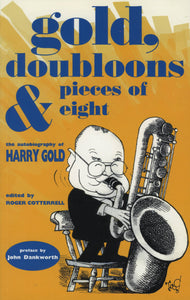 Saxophonist and band leader Harry Gold's wonderful memoir of the early years of jazz in Britain.
Harry Gold's vividly detailed reminiscences of his eight decades as a working musician conjure up lost worlds: London's East End in the 1920s, the glamourous high-society life of great dance bands in the interwar years, and life on the road with his own jazz band in the post-war decades. His musical experiences stretch from seeing the Original Dixieland Jazz Band in 1919 to touring in East Germany with his Pieces of Eight in the 1980s. As he said, 'have sax, will travel'.
His story is populated by royalty, gangsters, fearsome landladies and Irish publicans, but above all by the dozens of jazz and dance band musicians whose talents, eccentricities and often anarchic humour he celebrates. He tells also of struggles, in which he was involved, to unionise the popular music business and create decent working conditions for musicians. Harry's unique memoir is a panorama of the world of popular music in Britain through much of the twentieth century.
Reviews:
'a confection of pure and high-carat gold', Crescendo.
'a fascinating story', Just Jazz.
'Harry tells the tale very entertainingly... almost like listening to this incredible nonagenarian chatting over a glass or two of Irish whiskey', Jazz at Ronnie Scott's.
'a vivid picture of a musician's life on the road through much of the Jazz Century', Jazz Rag.
'a very entertaining... chronicle of the wide-ranging achievements of a remarkable man who has lived every minute of his long life to the full', Jazz Journal.