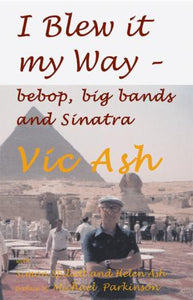 Preface by Michael Parkinson
Vic Ash, saxophonist and clarinettist, worked with the great popular musicians and entertainers.
In this book he tells his fascinating stories of show business life, of touring with George Shearing, Shirley MacLaine, Fred Astaire, Tony Bennett, Sammy Davis Junior, Sarah Vaughan, Ella Fitzgerald, Ray Charles, Liza Minnelli ñ and for more than 20 years with Frank Sinatra. As a first choice saxophonist and clarinettist for the orchestras that accompany the stars he has been close to them on stage and off.
Vic's career has been at the centre of modern jazz in Britain. From the days of London's legendary birthplace of bop, the Club Eleven, through to his associations with Tubby Hayes, Victor Feldman, John Dankworth, Ronnie Scott and other jazz stars, he has been a widely respected soloist and bandleader.
A highly readable autobiography . . . photographs are plentiful; there's a discography and a fair sprinkling of rewarding anecdotes. 
JazzUK.
There are numerous good tales and insights in this book, and it is nicely written with plenty of good photos . . . A good read.
 Crescendo and Jazz Music.