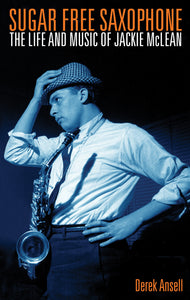 John Lenwood McLean – sugar free saxophonist from Sugar Hill, Harlem – is widely known as one of the finest, most consistent soloists in jazz history. From early in his career Jackie's powerful, unsentimental, sometimes astringent sound and inventive style made audiences and critics sit up and listen. Steeped in – but eventually moving well beyond – the influence of his mentor and friend Charlie Parker, he built an attractive, instantly recognisable musical personality.
As author Derek Ansell says, his career trajectory is far from the typical jazz story of the tragic artist in which early brilliance leads to later decline. McLean's story is one of glorious triumph over the drug addiction that affected so many of his friends and might have destroyed him. Able to produce uniformly fine recordings through the darkest periods of his personal life, he saw his reputation as a musician steadily grow and became not only a living legend as an improviser but a much respected educator whose students carry on his legacy. Fortunately, McLean's discography is large and Derek Ansell is a surefooted guide through the recordings, presenting them in the context in which they were made and indicating the special gems among a vast body of recorded work that is one of jazz's greatest treasures.
"Derek Ansell's exuberant new biography... And a powerful read it is too."
Morning Star
"Ansell is an expert on post-bop American jazz, having already produced a book on Hank Mobley for Northway... and this study of McLean is – like Workout, the Mobley book – packed with a keen and enthusiastic listener's insights into the recorded work; unlike the Mobley book, however (which, as its subtitle 'The music of Hank Mobley' implied, focused chiefly on the tenor player's recordings), it also provides a wealth of detail on McLean's life and beliefs.... McLean never completed his autobiography, but this respectful, perceptive study goes some way towards compensating his many admirers for this loss."
London Jazz
"A must-read for jazz fans... Ansell's... encyclopaedic knowledge of the world of jazz helps add luscious colour and exhaustive context to an already remarkable tale."
Newbury Weekly News
Derek Ansell writes regular reviews of live jazz and classical music for magazines and newspapers and has contributed more than two hundred articles and numerous interviews, record and book reviews to Jazz Journal International. He is the author of Workout: The Music of Hank Mobley (Northway Publications) and a book about the music of John Coltrane (forthcoming). He has also written three novels (two published and one forthcoming).
This book is also available as an ebook: buy it from Amazon here.

Read the London Jazz review here: http://londonjazz.blogspot.co.uk/2012/06/derek-ansell-sugar-free-saxophone-life.html