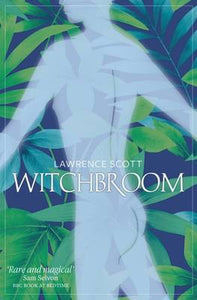 "What a powerful writer…. A Caribbean One Hundred Years of Solitude."  Fay Weldon
"Why was this book overlooked?"  Salman Rushdie
"Rare and magical. The first of its kind… wonderful evocative language; complete emotional range; a loving, touching insight into human and family relationships.  Sam Selvon
Witchbroom
 is a visionary history of a Caribbean Spanish/French Creole family and an island over four centuries to 20th-century independence. With an innovative tone and content, its carnival tales of crime and passion are told by the narrator Lavren, who is both male and female.
First published in 1992, Witchbroom became a Caribbean classic. The follow-ing year it became a BBC Radio 4 Book at Bedtime, broadcast over eight nights and read by the author. It was shortlisted for a Commonwealth Writers Prize Best First Book.
A pioneering work, it heralded a new generation of modernist Caribbean writers who, like Scott, broke away from a predominantly realist literary tradition; 
Witchbroom
 identifes more with magic realism. A richly entertaining and many layered read, its hermaphrodite narrator brings a contemporary flavour to the novel.
The title 
Witchbroom
 refers to a fungus that attacks cocoa trees, and is also used as a metaphor for the decline of the island s plantocracy.